Concord Piecemakers is a 501(c) organization.
February Quiltathon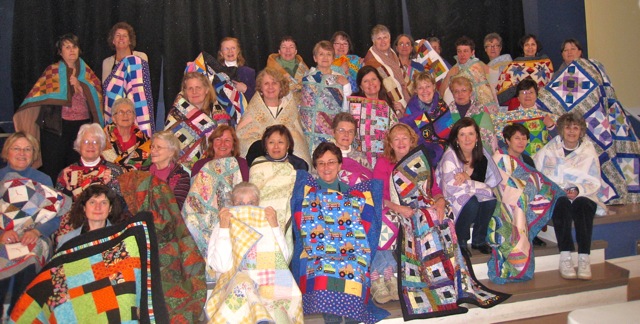 Our annual February meeting is devoted to creating quilts which will provide comfort to those in homeless shelters, cancer patients, victims of fire and domestic crises, and other folks in need of a "Quilter's Embrace." Those quilts which are not finished during our day-long Quiltathon are passed to our comfort quilt groups which meet once a month.
The guild supplies lunch (deli sandwiches and a fruit platter, coffee, tea and water) and we ask you to bring something to share for dessert or snack or a side dish. We also ask you to bring a finished quilt top (any size, though twin bed, lap quilts and kids quilts are in
demand), at the Quiltathon it will be either tied or quilted. Please bring an appropriate backing so we can finish it! Feel welcome to bring a friend/relative/stranger who wants to help. Stay all day or only for an hour, we take whatever time you are able to give.
In brief, please bring:
1) A quilt top with an appropriate backing. Please measure the top and pin the size to the two pieces. You can tie them together.
2) A dish to share with a bunch of hungry quilters
3) Your name tag for those of us who are too old to remember names
4) Your smile
If you don't get the top finished, we will accept you anyway, but we need the top. Try using colors you never use, you'll never see it again. Try a new pattern.
Comfort Quilts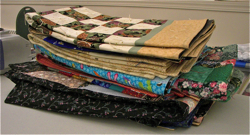 Throughout the year, members meet to work together on Comfort Quilts. Fabric is donated by members and by helpful quilt shops. Groups meet either in the morning or evenings on a monthly basis. Also, kits are made up and completed by the rest of the membership at home. Between the Quiltathon quilts and those made by the comfort quilt groups during the year, 100 quilts annually are donated to charity.
We have 3 comfort quilt groups: one meets in the morning, another meets in the evening and a third emphasizes machine piecing and quilting. Please see the latest newsletter to determine the meeting days, times, and places.
Comfort Quilt Sizes
Wheelchair, 36" x 45"
Lap, 48" x 60"
Twin, 57" x 82" (based on an 8" drape over the mattress, like a coverlet)
We rarely need quilts bigger than this, although welcome them if you are so inclined. Full/Queen size quilts are lovely for donating as a raffle prize. Please, nothing smaller than wheelchair size as we really have no need for them.
Click here for quilt assembly instructions
Contact Person – Eileen Ryan
Sewing Kits
We are putting together sewing kits for those in need. Please contact Tina van Roggen or Suzanne Knight  if you can donate any of the following items:
medium size tins, scissors (any size), thread, buttons, needles and pins, safety pins, measuring tape, bobbins – any style with or without thread
Breast Cancer Heart Pillows and Drainage Bag Covers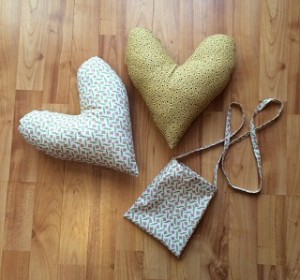 Breast Cancer treatment can make so many everyday things uncomfortable and even painful.  Here are three links for making heart pillows and drainage bag covers for breast cancer patients:
1: Letter, 2: Directions, 3:Template
ConKerr Cancer Pillowcases
We currently assembling 100 pillowcases. Click here for pillowcase instructions
Community Recipients
Would you like to help with one of our community service projects? Below are just some of the organizations we support. There is one which fits just about anyone's favorite charity or stash!
Bethke Cancer Center Emerson Hospital, Concord Road, Concord, MA 01742

Lap Size Quilts -No larger than 50X60 inches for adults: men & women, prefer machine quilted items

ConKerr Cancer Organization
Pillowcases – brights – childrens themes, Contact Maura Cain for specific instructions
Contact Person – Maura Cain
Families in Transition, Nashua, NH

Quilts – Children or Adult
Parmenter Community Health Care, Wayland, MA, POC Cynthia Mayher,

Quilts – Twin Size – Adult

Project Linus
Quilts – no specific size -brights – childrens themes
Wrap-A-Smile/Rotoplast

An international organization that provides quilts to children receiving cleft palate reconstructive surgery.

Wrap-A-Smile has hand crafted stunning children's quilts for Rotaplast to send on missions. Each child that is treated on a Rotaplast mission takes home a beautiful quilt of his or her own. These quilts provide not just warmth, but also allow children and their families to take home a token of love to remember the day they were given a new smile. Each year, Wrap-A-Smile provides Rotaplast with more than 1,500 quilts to bring to 48 rotating sites worldwide.
Add Another Recipient
If you are a member of the Concord Piecemakers and would like to add another organization to support, please make out the following form and submit it to our current Outreach Committee Chairperson.