April

April 19, 2017

Linda Warren
"Successful Fabric Selection For More Dynamic Quilts"
We all know the trick of choosing a "focus fabric" and selecting coordinating fabrics that match the colors in the focus fabric. As Dr Phil says, "How's that workin' for ya?" It works fine for a pattern calling for 3 or 4 fabrics, but what if you want to make a quilt with fat quarters or scraps? What if you want your quilt to look more dimensional? This lecture includes many practical pearls you can take home and use to take your quilts to the next level.
April 20th

, Linda Warren's Quilt Top Workshop, "Turbulence", $45
9:00 am – 3:30 pm, St John's Evangelical Lutheran Church, Sudbury, MA.
Learn Linda Warren's quilt top pattern, "Turbulence". Each participant works at her own pace to learn the skills needed to make a beautiful quilt top. Linda gives everyone the one-on-one attention they need to master the techniques and build confidence, while having fun. Includes tips and tricks to take the stress out of accurate piecing.
To register: Email Linda Merwin at linda.merwin@gmail.com and mail her a check, payable to Concord Piecemakers, to the address in our member book. Upon receipt of your check a supply list for the workshop will be emailed to you.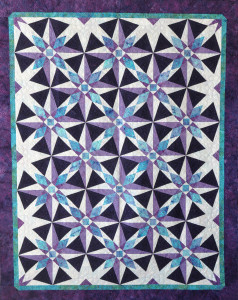 Raffle Quilt 2016-2017
Our lovely raffle quilt will be at the Fabric Place Basement  during several days of the Boston Modern Quilter's Show.
Saturday April 8 10:00AM-6:00PM
Saturday April 29 10:00AM-6:00PM
Sunday April 30 12:00 Noon-6:00PM
Place: Fabric Place Basement
321 Speen St.  At the Cloverleaf Center, Natick Ma. 01760
Stop in and check out the show and our quilt!
2016 – 2017 Challenge Quilt – Houses
The theme for this year's quilt challenge is Houses.  This could be any type of house:  a depiction of your childhood house, current house, a dream house, fairy tale house, whimsical house, or any type of house you choose to depict.  Use any techniques and embellishments you'd like.  The only restriction for this challenge is the perimeter of all 4 sides must not be greater than 100″.  Our Challenge quilts will be shared at the June 2017 meeting.
Renew your membership
Download the form here.
New on the site:
On the menu to the left you will see a link to the Community Service page.  It contains descriptions and directions for some of the items we make for others.  There are new links there for making Breast Cancer Heart Pillows and Drainage Bag Covers. Please visit our Community Service page if interested.
~~~~~~~~~~~~~~~~~~~~~~~~~~~~~~~~~~~~~~~~~~~~~~~~~~
 Watch this space for new things!  (Do you need something from the old website? It's no longer being updated, but it's available online while we work on the new website.)
The Concord Piecemakers is a 501(c)(3) public charity.