May
This month's Guild Meeting: Wednesday, May 20th
Location: via Zoom
Time: 7:15, with socializing starting at 6:45
Program: Jen Sorensen – Modern Quilting
Jen Sorensen will share her journey to Modern quilting from the
first quilt she made to creating her own designs. Her
kaleidoscope quilts and secondary designs in her quilting make
her work stand out as exceptional. Jen's stunning quilts have
been featured on many quilt magazine covers. Jen uses Zoom in
her professional life and is excited to reach out via Zoom to
our quilt to accommodate our current stay at home lifestyle.
The meeting will be open at 7 p.m. for socializing
and then begin at 7:15 p.m.
Jen's website  –
https://www.aquiltingjewel.com
The Zoom link for the meeting is in the newsletter.  If you are not a member and would like to join our meeting as a guest, please contact our president, Carol MacFarlane, at 
president@concordpiecemakers.org
, and she will send you the link.
Jen Sorensen Workshop on Zoom
Save the Date: Saturday, May 23, 10 a.m.-1 p.m
Topic: Secondary Designs in Quilts
With the right use of color and block placement amazing
secondary designs really make a quilt sing, according to Jen.
Her interactive workshop will be a combination of Jen speaking,
individual exercises to learn, and a group discussion. First she
will discuss historical and traditional quilts that use
secondary designs, and then we will do an exercise to help us
notice these designs. Then she will talk about her design
process of creating secondary designs in her own quilts and what
she finds most effective. Again, she will follow this with a
short exercise for us to explore secondary designs. The last
topic is how to design your own unique quilt. (Copyright issues
are eliminated! If your work is original.) Breaks and time for
informal discussion will be provided. Maybe we can enjoy lunch
together afterwards on Zoom just to socialize?
The workshop is 10 a.m.-1 p.m., and yes, you can come in your
pajamas if you want! The materials will be available through
Jen's Etsy shop and must be downloaded ahead of time. The cost
is $20. The meeting number will be distributed with the pattern.
There is no workshop fee! So if your sewing machine is too heavy
to lug to a workshop, this one's for you.
https://www.aquiltingjewel.com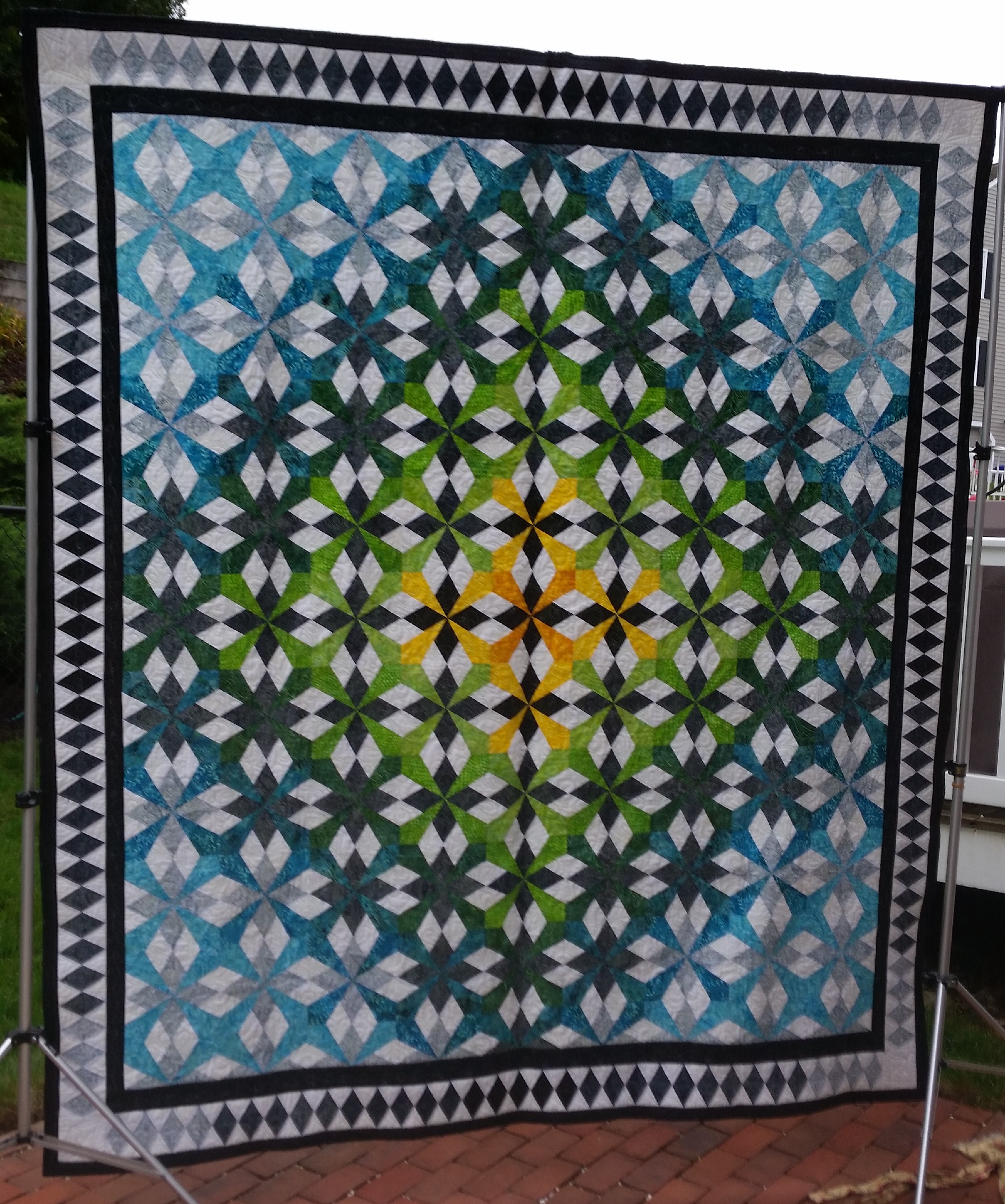 Raffle Quilt 2018-2019
Renew your membership
Download the form here.
~~~~~~~~~~~~~~~~~~~~~~~~~~~~~~~~~~~~~~~~~~~~~~~~~~
 Watch this space for new things!  (Do you need something from the old website? It's no longer being updated, but it's available online while we work on the new website.)
The Concord Piecemakers is a 501(c)(3) public charity.