June

June 14, 2017:  Quilting Studios and Year End Meeting
7:15 pm At Harvey Wheeler Center, West Concord, MA
Have you ever wondered what other members' studios look like? Can anyone be as messy as you are? Well, wonder no more. We will go on an imaginary bus trip to four Piecemakers' studios, see pictures and have the owner discuss how she works. Good for some laughs and you just may learn something! Keep an open mind. You may be next!
Please Bring a Dessert or Sweet Something for Our June Celebration Meeting. All outstanding library books are due at the June meeting.  And don't forget to bring your House Challenge quilt.
Fall Workshop
Birds, Birds, Birds! with Lynne Tyler
Workshop, Saturday, Sept. 30, 9:00-3:30, St. John's Lutheran Church, Sudbury
Come spend a day with Lynne Tyler and learn how to make your own flock of improvisationally pieced birds.  Learn new ways to look at your fabrics in order to create birds with attitude and wings that sing.  Once you make your first bird, you are off to the races.  It's great fun and very addictive.  For more Bird Inspiration, check out Lynne's blog:http://patcherymenagerie.blogspot.com/2016/01/the-last-bird.html
To register for the workshop, contact  Carol MacFarlane.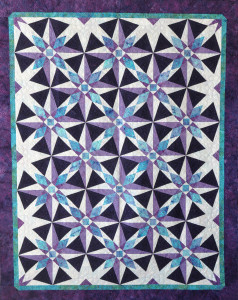 Raffle Quilt 2016-2017
The next ticket sale venue for our lovely raffle quilt is the Concord Picnic In The Park on the 4th of July.
2016 – 2017 Challenge Quilt – Houses
The theme for this year's quilt challenge is Houses.  This could be any type of house:  a depiction of your childhood house, current house, a dream house, fairy tale house, whimsical house, or any type of house you choose to depict.  Use any techniques and embellishments you'd like.  The only restriction for this challenge is the perimeter of all 4 sides must not be greater than 100″.  Our Challenge quilts will be shared at the June 2017 meeting.
Renew your membership
Download the form here.
New on the site:
On the menu to the left you will see a link to the Community Service page.  It contains descriptions and directions for some of the items we make for others.  There are new links there for making Breast Cancer Heart Pillows and Drainage Bag Covers. Please visit our Community Service page if interested.
~~~~~~~~~~~~~~~~~~~~~~~~~~~~~~~~~~~~~~~~~~~~~~~~~~
 Watch this space for new things!  (Do you need something from the old website? It's no longer being updated, but it's available online while we work on the new website.)
The Concord Piecemakers is a 501(c)(3) public charity.