Concord Piecemakers Guild Calendar
Program Overview for 2013-2014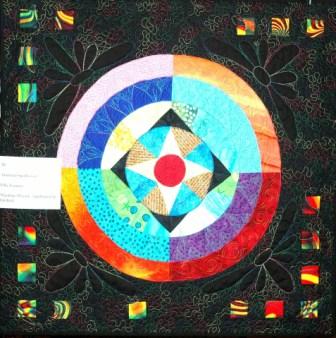 September 18

Sandi Bard - An Informal Show-and-Tell Talk

An informal show-and-tell talk by Sandi Bard, a founding member of the New England Quilt Museum and a quilter and designer for 25 years. Sandi will share with us her own history as a quilter with lots of techniques, design information, and Q & A.
Also, please plan to bring your own accomplishments from the summer to share in our own show-and-tell at the end of the meeting.

October 16

Speaker- Beth Helfter - Plays Well With Others

Quilting is a very social hobby, although for the most part quilters create their own individual masterpieces. Adding more quilters into a project changes the scope immensely, and it is a joy of quiltmaking that I love to share. This lecture focuses on group quiltmaking beyond your basic round robin, including several examples of group quilt projects I have organized online through my website and blog.

October 24

Quilt Show Set-Up

Drop off items for the show.

October 25-26

Quilt Show - Basket of Quilts

An exhibition of quilts by guild members at St Matthew's Methodist Church, 435 Central Street, Acton, MA

November 20

Speaker - Bobbie Sullivan -Postcards from the Edge

In the summer of 2012 Bobbie was an Artist in Residence at Grand Canyon National Park for 6 weeks. To work daily with discipline she challenged herself to create a postcard a day, focusing on small interesting details she observed in the landscape. The subject of this new lecture is her experience in the park and how she approached the vast Southwest with fabric and thread. It will include 38 postcards and other quilts which came out of this creative journey.

December 11

Holiday Party

A holiday fun activity to be announced.

January 15

Pam Weeks from the New England Quilt Museum

January 17-20

Getaway Weekend

Spend 3 days and nights, 2 nights, 1 night or an afternoon sewing (and laughing) together on the ever-popular Getaway. Held at the Colonial Inn, Gardner, MA.

February 19 at 7:15pmSusan Brubaker Knapp of bluemoonriver.com

Our speaker will be Susan Brubaker Knapp of bluemoonriver.com. Susan will be speaking about "The Artist in You." Her website gives the following description of this topic: A one-hour digital slide show and trunk show. I describe my personal journey from that of a traditional quilter to an artist who makes both traditional quilts and art quilts. I start with a digital slideshow, which shows my work and some of the techniques I use. Then I do a trunk show and a question-and-answer session. The focus is on ways for traditional quilters to become more creative by embracing their own "inner artist." It is my goal to inspire and encourage quilters to try making an art quilt for several reasons: to challenge themselves, to unleash their innate creativity, to learn new techniques, to discover things about themselves through art, and to share their view of the world with others.

February 22

Quiltathon

Place:
St. Matthews Church
Central Street, Acton

Time:
8:00 am - 4:00 pm

Make a quilt top and back in advance, if possible. Bring your scissors and thimble. Lunch will be supplied.

March 19

Kathleen Murphy

Kathleen Murphy of Kathleen Murphy Designs presents a trunk show of her work. According to Kathleen, her trunk show is "A discussion of my quilts. What inspired me, challenged me, pleased me....How I overcame mistakes; there is at least one in every quilt."

April 16

Speaker - Rayna Gilman - Lecture

An internationally known artist and teacher whose work has appeared in galleries and museums across the U.S., Rayna brings her intuitive sense of color and design into her work and classes. Infusing her students with a sense of play, she encourages them to ask - what if? - as they experiment with their own work.

April 17-18

Workshop - Rayna Gilman - "Endless Design Variations"

"You'll discover simple and exciting variations on strips, squares, and rectangles. Using, "what if?" to guide you, you'll quickly and easily create one-of-a-kind units to use in endless combinations for your own original quilt." This two day workshop is filling up! Sign up now by emailng Linda Merwin and sending her a check for $80 payable to Concord Piecemakers. After our March meeting, we will open up the workshop to members of other guilds. If you're thinking about attending, don't miss out by waiting too long to sign up!

May 21

Annual Meeting and Election of New Officers. Tina van Roggen Trunk Show

June 11

Ice Cream Social

Installation of New Officers. Member Demonstrations and Year End Show and Tell.
Workshops 2013-2014
November 23

Workshop- Bobbie Sulllivan, Postcards

Postcards are a unique way to capture a moment in nature with a picture and words. In this half day workshop you will be given a kit with landscape elements to make a custom postcard. All materials will be provided. A sewing machine with a free motion foot is necessary.
Wearable Arts Meetings 2013-2014
Meeting places and times will vary, please check here often. RSVPs will be needed on many events.
September 8 Sunday 1 pm

Make & Take Kit

Wearable Arts has been invited to join American Sewing Guild to experiment with a new product. This Make & Take will be fun. Kits are being made, so please RSVP. If you want your own fabric, bring 2 pieces 7 inches wide x 8 inches tall. Join us at Daley by the Yard in Acton.

October 2 Wednesday at 7 pm

Construction Details

Wearable Arts has been invited to tour Cambridge Wear to search out construction details to use in our garments. This night we are allowed to discuss how they did that detail, and try on items to see what looks good on our figure. RSVP is needed for this event.

November 16 Saturday at 10 am

Pattern Alterations

Note time/date change! Wearable Arts will be meeting at the Open Sew for pattern alterations and muslin fittings for your holiday wear. This will be a great time to fit a knit top for an upcoming workshop on knits. If you need a muslin fitting or a pattern fitting this the morning to learn how. We will also talk about how to add a seam somewhere in a garment for a different look. Cindylee will show you how to change necklines on a knit top from McCalls pattern 6796. Join us on Nov. 16th from 10am-1pm at McKay Hall, Newbury Court North (next to Emerson Hospital) 80 Deaconess Rd, Concord.

November 9

Trip to Portsmouth

Let's carpool to Portsmouth Fabric and then explore the neighboring independent shops to get away from the chain stores. Kittery is 10 minutes north if you want a full day of holiday shopping... beat the crowds!

November 10

Trip to The Woolpack

Note the changed the date for this event, as many were involved in The Gathering show. Join us to learn a simple crochet flower idea, let's talk about rehabbing items with edging and embellishments. We will learn how to cut apart old sweaters and remake them. A cape to warm your shoulders while sewing is being made from 5 different sweaters; let's see how it turned out and what you can learn to make your own. And just added is an introduction to dying items without buying from a dye company.

December Saturday

Join Open Sew

Let's join the regular Open Sew group to finish things that need to get done. No extra meetings due to the holiday rush.
December 11

Holiday Party
Let's wear something we made to the party to inspire others!
Saturday Open Sew 2013-2014
2013 -September 21, October 12, November 16, December 7
2014 - February 8, March 15, April 26, May 17
Board Meetings 2013-2014 @ 7 PM
September 11, October 2, November 6 , December TBD, January 8, February - no meeting, March 5, April 2, May 7, June 4
Other Quilt Events
Quilt Fun is a free e-mail newsletter sent by Cindi White-Weis to subscribers with information of interest to quilters all over New England. When you subscribe, you can add your e-mail address to the mailing list. She accepts news items from anyone, publicizing quilt shows, classes, get-aways, museum exhibitions, items for sale, etc. To subscribe to Quilt Fun, click here and sign up.